I had a dream during the night that I was inside a friend's home. It was a rustic home, not well insulated. Although it was cold outside, there was a stove on the inside that made the home warm and comfortable. This stove was a very unique  stove, one I had never seen before. Instead of using wood or gas for heat, it used heat from down deep inside the earth. The heat traveled its way up a long tunnel and then came out through the stove.
I thought what an ingenious way to get heat and not just any heat but free heat. I was very disturbed though by the most unique characteristic about this stove. There was a microphone down inside the tunnel where the heat was coming from that allowed the occupant of the home to hear the sounds from down deep inside the earth.
The sounds were not ordinary sounds but quite disturbing sounds. They were voices of people screaming and not just screaming but screaming in torment.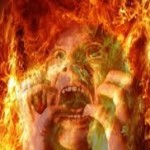 I awoke in total shock, not just from the sounds that I heard but the thought of who would ever want to live in a home with the sounds of people screaming in torment.
The worst thought of all was imagining the torment that those voices represented, the unimaginable pain and suffering those souls must be going through with no ability to save or rescue them.
What would it be like if we too lived in a home that contained a stove that gave us warmth and comfort but also gave us a cold chill of distress and discomfort? What if the place we lived gave us a constant reminder that multitudes fall daily into a lost eternity of torment with no chance of momentary relief?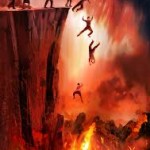 Would we have more compassion and more passion to reach the lost?
Could that stove in our lives be Jesus and the Holy Spirit? Are we not the temple and dwelling place of the Holy Spirit? Is He not only the Comforter but does He not also convict us of sin? If we are truly His dwelling place, should we not be comforted by His presence but also stressed and discomforted living with the realization there's a future torment facing those who haven't made Jesus their dwelling place? If Jesus cares about the lost and He died that no man should perish (Luke 19:10) and He desires to live His life in and through us, should we not care as well?
Jesus reduced the multitude of commandments to these. Mark 12:30, 31 states, And thou shalt love the Lord thy God with all thy heart, and with all thy soul, and with all thy mind, and with all thy strength: this is the first commandment.  And the second is like, namely this, Thou shalt love thy neighbor as thyself. There is none other commandment greater than these. If we love ourselves and care about ourselves enough that we don't want to spend eternity in Hell, isn't the evidence of our love for our fellow man manifested by our desire to see the same for him?
If we don't care about the eternal destiny of our fellow man, does that not indicate we truly don't love our neighbor as our self? Have we become so cold? Are we the ones described in 2 Timothy 3:2, For men shall be lovers of their own selves…lovers of pleasure more than lovers of God? If we love pleasure more than God, then the treasure from pleasure will fill our hearts not the treasure from God. If a Christian today has no concern for anyone's salvation except their own, then he likely doesn't love his neighbor as himself.
True love for our fellow man isn't our own love but God's love and we can never fulfill the second command until we fulfill the first. The night Jesus was betrayed, He gave a long discourse between John 13:31 and end of Chapter 17 regarding the love relationship he desires to have with each one of us. John 14:21 states, He that hath my commandments, and keepeth them, he it is that loveth me: and he that loveth me shall be loved of my Father, and I will love him, and will manifest myself to him. In other words, the love of the Father will manifest and make itself a reality in only those who obey.
Jesus further explained in John 14:23, If a man love me, he will keep my words: and my Father will love him, and we will come unto him, and make our abode with him. Our true love for God is evidenced by our obedience to Him and our obedience to Him opens the door and enables us to become His abode. And we are his witnesses of these things; and so is also the Holy Ghost, whom God hath given to them that OBEY him. (Acts 5:32)
When one of the disciples asked why Jesus would manifest himself to them but not to the world, Jesus answered, He that loveth me not, keepeth not my sayings (John 14:24), essentially saying the world won't obey my words and therefore won't receive and be filled with my love.
Jesus concludes the discourse with these words, And I have declared unto them thy name, and will declare it: that the love wherewith thou hast loved me may be in them, and I in them (John 17:26). Loving God with our whole heart by our obedience to Him results in our heart being opened to be filled with His love. Only after we have received His love can we truly love our fellow man as we do ourselves.
The fulfillment of the first command is the enabling of the second command. Only those who truly love God will truly love their fellow man. Only those who prove their love for God by their obedience to Him will be filled with the pure love that enables them to genuinely love their fellow man and have same compassion that Jesus has for us.
The evidence we love God is by our love for our fellow man and our love for fellow man proves our love for God. 1 John 4:20 puts it this way, If a man say, I love God, and hateth (meaning love less) his brother, he is a liar: for he that loveth not his brother whom he hath seen, how can he love God whom he hath not seen?
Is this the "fireplace" and passion that burns inside your home? Jesus desires to give you this "fireplace" to warm your heart and comfort your soul, yet at the same time be a constant reminder there are many still in need of the same "fireplace".
Receive the love that reaches out. Then, Freely ye have received, freely give (Matt 10:8).