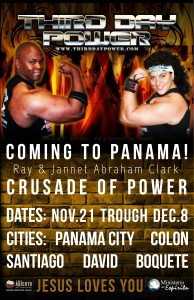 Panama Power Crusade will commence November 19 and go until the middle of December 2014. Jannet and Ray Clark of Third Day Power will join Strength4thejourney missions to conduct a nationwide crusade to reach the lost and feed those who hunger and thirst after righteousness. 113,000 Gospel Tracts have just arrived that include over 60 different Gospel stories in Spanish as well as English and will be distributed across the country as we minister.
The Power Crusade will begin in the Panama City and Colon region first from November 19th until November 23rd. We will be ministering in churches, schools, prisons, as well as on the streets and city squares and will have 2 television appearances on Channel 2 and Channel 13.
November 24, 25, and 26 we travel to 3 cities Penenome, Aquadulce, and Santiago to conduct a 3 day crusade in schools, prisons, and churches. Then it's on to David and Boquete in the province of Chiriqui to finish the remaining days of the Crusade.
If you feel so inclined to help with the expenses of the Power Crusade, you can go to the PayPal button at the upper right hand of the webpage and all donations will go directly to the expenses for the Crusade. This webpage will be updated with pictures and videos as the crusade proceeds.