Being right doesn't make a man right. Neither is there a scale weighing a man's "rights" vs "wrongs".
Everyone will be judged according to their own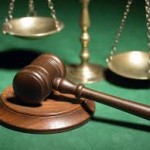 works,…and the dead were judged out of those things which were written in the books, according to their works. And the sea gave up the dead which were in it; and death and hell delivered up the dead which were in them: and they were judged every man according to their works. (Revelations 20:12, 13) 
Everyone will be judged according to their own wrongs. But he that doeth wrong shall receive for the wrong which he hath done: and there is no respect of persons (Colossians 3:25).
For we must all appear before the judgment seat of Christ; that every one may receive the things done in his body, according to that he hath done, whether it be good or bad (2Corinthians 5:10).
No one gets a pass.
There is no "Teflon" coating on any man. Many Christians believe that the blood of Jesus covers their past, present, and even their future sin. If this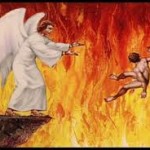 were the case, Jesus wouldn't have looked at his hand-picked disciples and friends saying, "And I say unto you my friends, Be not afraid of them that kill the body, and after that have no more that they can do. But I will forewarn you whom ye shall fear: Fear him, which after he hath killed hath power to cast into hell; yea, I say unto you, Fear him." (Luke 12:4)
Jesus gave his "friends" a heads up. Nobody gets a pass, not even the twelve.
The arrogance of many who consider themselves as Christians today is over the top. They believe they are saved no matter what they do. They believe they can live in a sinful lifestyle and God's love overlooks their "fault". They may look at it as a fault or weakness but God considers it as sin.
In many ways, the attitude of many Christians today is saying to God, "Not even you can cast me into hell". If the first disciples didn't get a pass, what makes us think we'll get one?
This mindset is a very dangerous mindset for any Christian. Jesus said, "I tell you, Nay: but, except ye repent, ye shall all likewise perish." (Luke 13:5)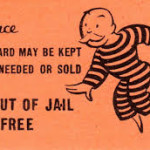 The blood of Jesus isn't some sort of "Get out of jail free" card. It's not a coating of "Teflon" protecting a man from the judgment of God. His blood isn't a license to sin but the precious access into His holiness and the means of an eternal blood covenant with all those who love Him and demonstrate their love for Him by their obedience to Him.
Every man will be judged according to what he has done in the body. No one gets a pass.  All the right answers Peter gave while walking with Jesus didn't outweigh is wrong answer when he denied the Lord. Even the Apostle Peter had to repent and be converted in order to be restored. (Luke 22:32)
If he hadn't repented and turned back to the Lord, he would have followed the path to perdition like Judas.
All the right things done by the churches in the book of Revelation couldn't outweigh the wrong they had done. Jesus told the congregation of Ephesus to repent and do the initial or first works. God's judgment isn't a scale, it's absolute and no one gets a pass.
It is a fearful thing to fall into the hands of the living God (Hebrews 10:31). Don't underestimate the holiness of God. Don't underestimate the holiness God requires from any man. "Be ye holy, for I am holy" (I Peter 1:16), says the Lord. There is no man okay in an "I'm okay, you're okay" world. No one gets a pass.
The message the Lord is speaking to those who have ears is, "How narrow is the narrow road? It's narrower than you think. What do I require from my people? More than you think. If you pass yourself, you will fail. I'm the teacher. I grade the tests. If you think you can grade yourself, you're a thief because you're robbing me of my job."
"My grading curve is only for those who haven't passed themselves. Judge not lest you be judged applies to you too. Don't determine yourself worthy. That's my job. I'm the only One worthy and who I determine. No man can stand in my presence and survive. My holiness will consume them and the sin they embrace."
"Can a man stand next to the sun and live? It's not the choice of the sun not to burn a man. The sun has a standard that must be feared. My holiness must be feared and not taken lightly.
It's a fearful thing to fall into the hands of the Living God. No one gets a pass. A man might reject my love but no man can reject my judgment. My judgment is final and forever. Repent and turn back to me", says the Lord.
No one gets a pass.